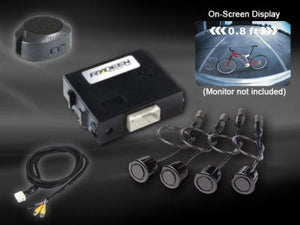 Rydeen Mobile Reverse Parking Sensors (4) With Onscreen Video Output
This system is designed as a car parking aid system for aftermarket use.
The Rydeen BL-412PM back-up sensor modules add safety and convenience to your vehicle. Connect the BL-412 to your in-dash monitor or Rydeen Stand-Alone monitors (BM352S) and it automatically displays what's behind your vehicle when you put your car or truck in reverse, with distance OSD (On-Screen-Display) let you see the distance to the obstacles right on the screen. You can choose from any of the Rydeen professional grade cameras to use together with BL-412 and select the best line of sight for your vehicle. And you'll get a great Peripheral view including the distance OSD right on the monitor (a video monitor and a camera are required for this system and sold separately).
Items Included:
Main control box (1pcs)
Ultrasonic sensors (4pcs)
Drill bit (1pcs)
User's manual (1pcs)
Accessories
Features:
On-Screen-Display with use of separate video monitor
Back-up Camera Video In/Out
Highly sensitive sensors
Quick reaction
Technical Specification:
Rated voltage: 12V DC
Operating range: 9 ~ 16V DC
Rated current: 20 ~ 300 MA
Detecting distance: 1.0 – 8.0 feet
Ultrasonic frequency: 40 KHz
Operating temperature: -22 ~ +158°F
Advantages:
Paintable sensor units
Reliable performance
---